"Putting on glitzy, mythological costumes, wearing bright and intricate makeup, and entering a make-believe world to bring back forgotten mythological characters to real life, this is what we Surabhi Artists do!
Belonging to the Surabhi Drama Theatre community, I grew up amidst artists. Right from my childhood, I watched my father and grandfather put on different costumes and play different characters from mythology. Our community has a history of more than 136 years. It was only natural for me to start acting too, by the age of 6. Initially, we were all together, but later, we split into multiple smaller groups performing different plays on stage.
I've performed thousands of plays along with my community members covering a wide range of historical and mythological tales but one play that is close to me personally is Satyam Vadha Dharmam Chara which I directed and acted myself. The most common plays we perform are the themes of Bhaktaprahalada, Maya Bazar, Pathalabhairavi, Chinthamani, Bala Nagamma, Gunasundari Katha, among many others.
However, gradually, the demand for this age-old art form started to decrease. During my final year of B.Tech, I still remember my uncle initiating the Surabhi program to students but unfortunately very few people turned up. It was disheartening to perform in an almost empty venue and that's when I got the thought of taking our Surabhi shows online. But due to various technical limitations, I could not implement that thought back then.
But as the famous saying goes "Necessity is the mother of invention", the time has come for us to take Surabhi forward online because of the unprecedented CoVID 19 situation. That's when we decided to take our shows online for the first time in the history of Surabhi. We had performed our first live show last October when KL University invited us to perform Mayabazar play for their virtual convocation. Since then, we have performed 24 shows online with the help of a few organizations and communities.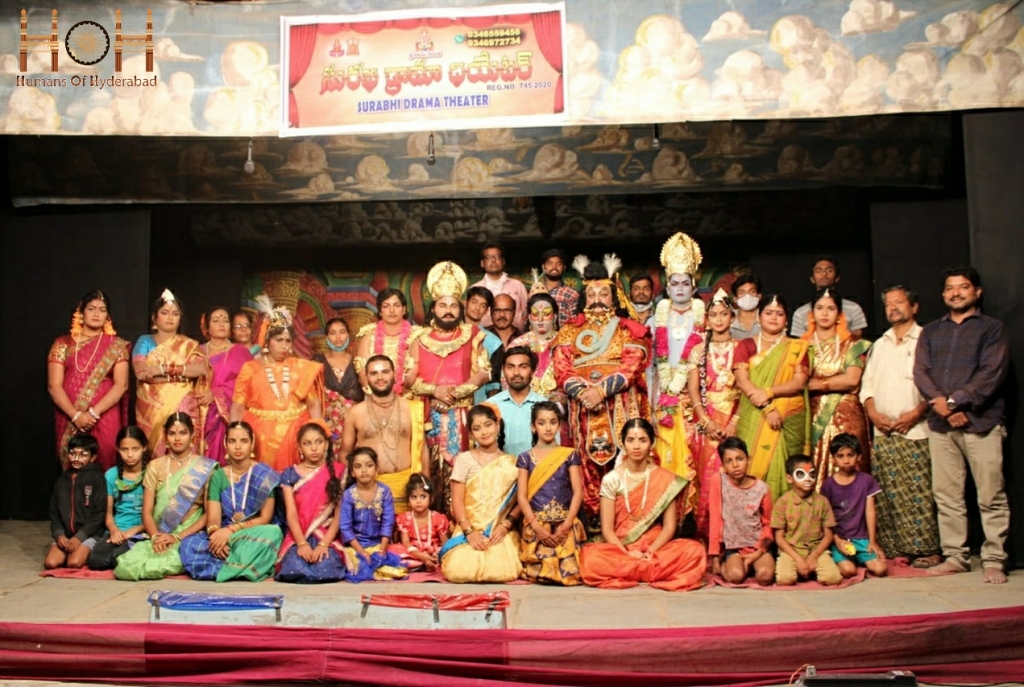 Right now, we are able to sustain only because of the online shows. We are ready to perform plays virtually to government/ corporates with just a three-day notice period. These are incredibly difficult times for us and I request all the theatre enthusiasts around the world and the state government to encourage us so that we can continue to keep Surabhi alive."
#WorldTheatreDay #coronavirus #Crisis #Digital #acting #Art #theatreplay #CoronaVirusPandemic #Survival #Theatre #IndianTheatre #SupportLocal #SurabhiDramaTheatre #Historic #digitalisation Kalvakuntla Taraka Rama Rao – KTR #Hyderabad #HumansofHyderabad