"It was the monsoons, and I was traveling back home from Anantapur to Hyderabad. It was past 8:00 p.m, and I was looking out the window, wondering how my dad would reach the station if it began raining heavily. My train reached Secunderabad Station; by then, it had already started drizzling. I walked from the station to the Raitifile bus stand. I tried calling my dad but he didn't pick up, so I figured he was probably driving. He called me back and said; "Beta, I'm on my way, it's raining heavily here in Maredpally. You stay where you are, I will reach you as soon as possible."
I stayed put. In a matter of minutes, it started pouring. Fortunately, I was standing under the bus stand so I wasn't getting drenched. But let me tell you, a girl standing alone with luggage in a place like the Raitifile bus stand is like a scene out of a horror movie. I was stared down by many scary looking men, and for whatever reason, the elderly. A man standing beside me lit up a cigarette and glared at me. I wanted to do something, anything, but I couldn't speak a word. I was scared, and I could hear my heart pounding. I was just praying to God to send my father as soon as possible.
The time was 8:45 p.m. by then. I got a call from appa, this time he said; "Beta, the rain isn't going to stop. I'm going to come anyway." In some time, appa reached the bus stand. I rushed towards him feeling like my savior had arrived. We started back home, but my happiness didn't last long.
On our way home, our bike suddenly broke down at Apollo hospital, Secunderabad. After 20-25 kicks, our bike revved back on. It was 9:40 p.m. We restarted our journey, and I thought our troubles were behind us, but by the time we entered the AoC center, there was a huge pool of waterlogging. The moment we entered, our bike broke down again. But this time we didn't have a shot at kick starting the bike because the water was higher than knee level. We began pushing the bike and walking. We didn't know what was under all that water, but we kept pushing through. We walked for over 5 kms.
Suddenly my dad shouted, "My chappal is floating away". I didn't even give it a second thought before running behind the chappal, but it was just out of my reach. The moment I looked up, I saw a car rushing directly towards me. My only thought at the time was how ridiculous it was that I was giving my life for a chappal. I don't know if somebody was watching over me, but the car stopped inches in front of me and let me pass. I rushed back to my dad and said, "I am sorry, Appa, I couldn't get your chappal". He said, "It was of no use. By the time you ran behind it, I lost my other chappal too". We both laughed, despite being drenched and covered in dirt.
He walked the rest of the way barefoot. The road was filled with mud and stones. He didn't care about anything but getting me home. I did my best pushing the bike with all my strength, but I knew I wasn't helping him much at all.
After walking for about 8 kms, with the bike's weight draining all his energy, I saw a fighter in him. I saw someone who refused to give up in light of adversity. I could hear him gasping for breath, and I asked him to stop repeatedly but he refused. He kept saying that we would only stop if I was too exhausted to walk anymore.
We reached home around 12:05 a.m. that day. My sister and mother were worried sick. After drying myself up, I took a look at my dad's foot. It was horrifying to see his bleeding toe, his sole completely red with cracked heels. I quickly bought the first aid kit and fixed it up. Before sleeping, he held my hand and said, "when you feel like you can do it, never stop." He squeezed my hand and went to sleep.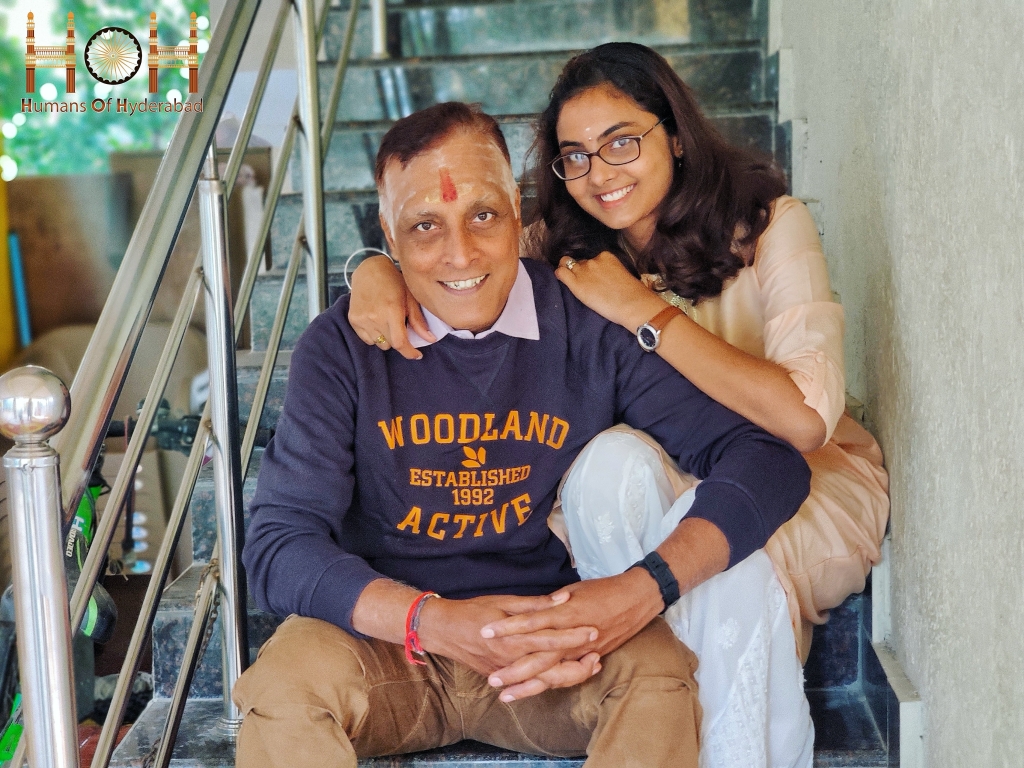 This incident has been etched into my brain. Today, I've finished my medicine, started my own blog and Instagram page, and I know he is proud of me. My father, who has served the nation for more than 22 years, and has taken care of us our whole lives, is my inspiration and I will always remember the words he uttered to me that night. Happy International Men's Day, Appa. You are my real hero!"