"I was born and brought up in Mysore and have done my Arts Major in Kannada. I moved to Bangalore after my marriage. I was barely 18 years old when I got married, and the requirement from the boy's side of the family was that they needed the girl to be a homemaker who prioritise family and duties at home over anything else. That time, my family and I happily agreed because that was how I had grown up seeing my relatives at home.
After a few years of wedding, I was blessed with a baby girl. Since then, I would always think about my daughter and prioritise my family's wellbeing over anything else.
My husband started the Truss company – Raj Event Equipments back in 2006 and it was a successful venture considering the boom in the field of event management. I looked after the elders in the family and my husband and never bothered about my aspirations for life. I did what society perceived a dutiful wife should be like. Life went on and our business was stable by God's grace.
However, things went down south when my husband was diagnosed with life-threatening Liver Cirrhosis in 2014. It was in June where I was informed about his condition and for a moment, I could not even believe it. After a few days, his health deteriorated and he passed away. Those were some of the most traumatic times of my life. I was totally in shock. Adding to my problems, our workers back then, whom we believed to be most trustworthy have cheated me. More than 70% of our resources and stage gears were taken away by them along with a few of our close associates. It was a massive blow for me and my family. The only thing which we were left with was one of our company's Laptop where the complete information about Truss and stage gears were saved in it. I went through them and learnt the nuances of Trussing and rigging. I had to restart everything from the scratch and it did take me some time to understand the process. I even mortgaged my gold and invested in the small equipment and took up small orders.
Fortunately, with Gods grace and the kind support of my clients, I was able to recover from the losses and slowly retained the equipment and gears that were required to handle the big events. From 2014, till date, I have done close to 2000 events handling the rigging and trussing through our company. My cousin, Dinesh, has been supporting me to execute the setup for the past three years and I also have 18 workers who work with us today. My daughter, who's been my greatest support system throughout, is now pursuing her final year in the Naturopathy course.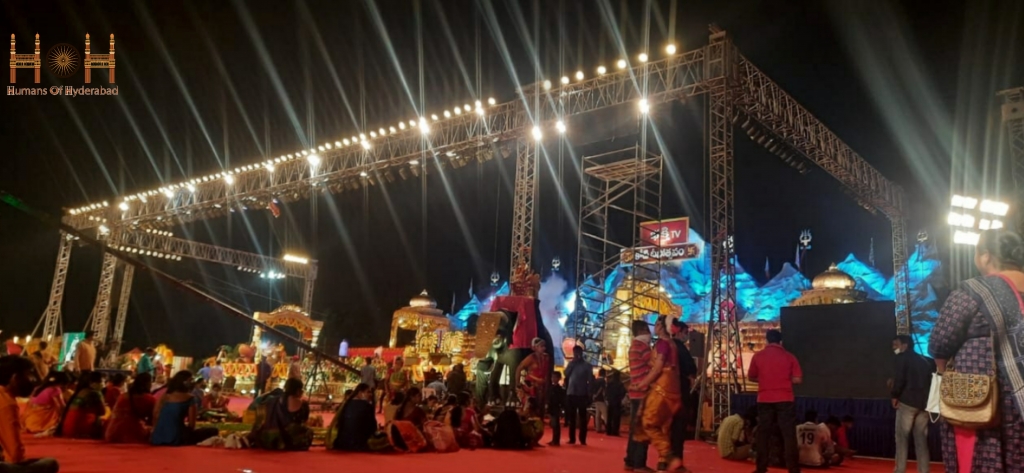 Taking about the Kotideepotsavam, this is my first major event in the two Telugu states of India. I was referred about this by a friend who's a Light designer regarding the stage equipment required for the Kotideepotsavam event. Later, when I was contacted by the officials of Bhakthi Television, I immediately agreed to the contract and I truly feel blessed to be a part of such an auspicious event which is held annually during the Karthika Maasam.
Today, I can proudly say that I am the only businesswoman in entire India to handle the Trussing and Rigging equipment. They say that there comes a particular point in everyone's lives when they realize their inner strength and my life was certainly a rollercoaster ride, to say the least!"