"Music is the best form of expression, for me. Growing up in a house full of trees, my father taught me to listen to bird songs. I developed this later to identify bird calls. Our terrace had a room where Varadarajulu music master lived. I was fascinated by his engagement with instruments – he played flute, veena, violin and also tended with care to instruments including the mridangam.
My father plays the flute and amma sings. Theirs is a love marriage and music brought them together. Music is a part of our lives. I was named Ranjani after their favourite ragam.I began my vocal lessons with Sangeeta KalaAcharya Vidushi Smt. Seetha Narayanan.Mami delighted us with stories alongside her music lessons and made everything fun and challenging equally.Growing up in Madras was the best thing. I got the opportunity to observe and listen to a lot of live concerts (katcheris).
My parents, who were both working with Indian Bank, would make suitable arrangements to make these happy excursions.Our school Bhavan's Rajaji Vidyashram had music as one of the classes and we were taught by Vidwan Udayalur Kalyanaraman Sir. He is a great tunesmith. We would bunk other classes to make sure we got to spend more time with him. There would be grand arrangements for our Annual Day event at school and music and dance were a core part of these.
I learnt the art of Viruttam singing and many Tamil compositions from the great Vidwan Chetalapati Balu. His singing was very evocative and after every lesson – my father and I would be so moved and in raptures. After completing my engineering at Vellore Institute of Technology, I was selected by Tata Consultancy Services for a job at Hyderabad. At those times, we were fortunate to have a thorough training program at Trivandrum – the syllabus had foreign language, life skills, activities that widened one's perspective.Meeting people from different parts of the world at TCS broadened my outlook. In Hyderabad, I came under the tutelage of Vidwan NS Srinivasan (Flute). He urged me to quit my corporate gig and do music full time. Losing him to cancer was devastating. His inputs and lessons continue to guide me till date.
After his demise, Venkat and I got married and we moved to the United Kingdom for five years and I taught music there extensively.I sought the tutelage of Isai Peroli Dr. Smt. Pantula Rama on our return to India. Her husband, Vidwan MSN Murthy and she greatly inspire me to strengthen my saadhana and pursuit of excellence in musicAn artiste is a soul, engaged deeply with the pursuit of beauty in all things. Luckily for me, my family is like that. My father writes, my mother is a keen gardener, my brother a scientist and my husband a filmmaker.We understand each other and share a lot of learnings for each of our streams.There are many moments on stage that are special but much more than that, are the ones when you see a sparkle in the eyes of your Guru. They could be small gestures – a smile, a nod, a sabash, or a gentle sway of the head but these make you smile from ear to ear and feel so happy.There were no questions when I decided to quit. TCS offered me a sabbatical and was reluctant to let me go. I enjoyed my job and learnt a lot at TCS. But time is a premium and I wanted to spend all my time musically.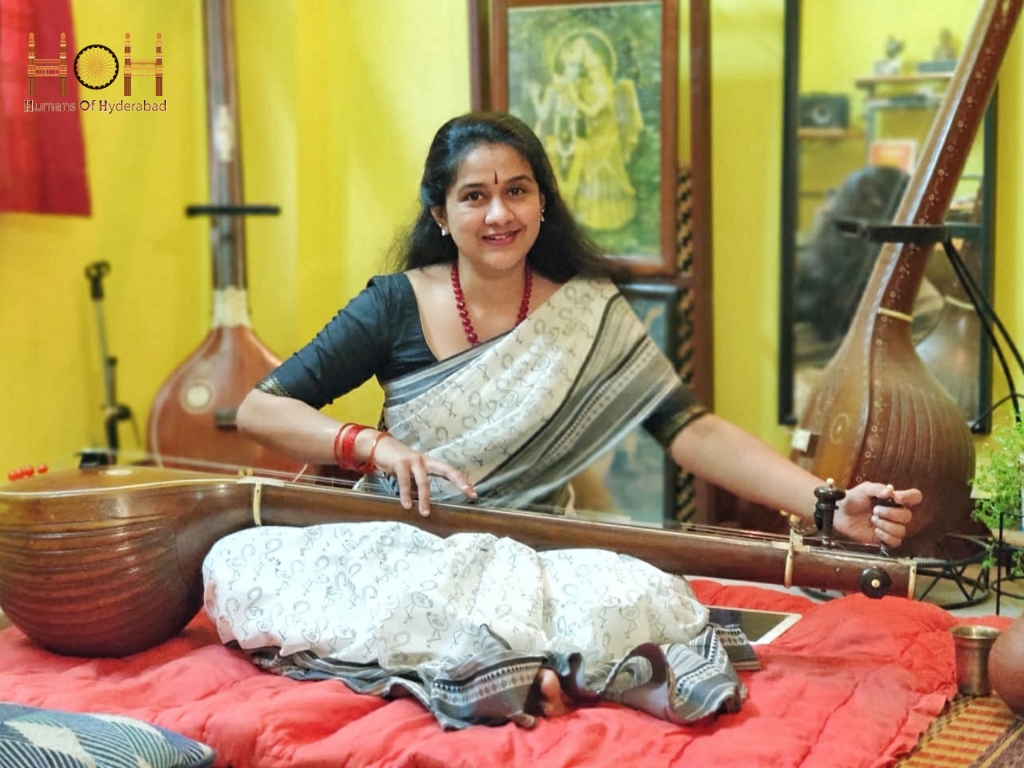 During the pandemic, I started training in Hindustani Music while keeping in touch with my Carnatic roots under Prof.Vidvan Vishnuchittan Balaji of Benares.I see them both as the confluence of two rivers. I have been fortunate to dive deeply under able guidance. Strive to be musical. Listen to music and be kind."
#WorldMusicDay #musicislife #Culture #classicalmusic #MusicLovers Ranjani Sivakumar #Life #Journey #Passion #Success #Motivation #Hyderabad #HumansofHyderabad