"From the day I was born, I was a part of the art world. My father was a painter. Although he was a sub-inspector in the police department, he was an artist at heart. Be it painting, theatre, or music, he was into it all. The relationship I share with him and art was never seen as a separate bond. I remember spending my mornings with him at his in-house studio and observing him paint.
As an artist he was inclined towards various kinds of art and music was one of them. I remember, one day he walked into a music store and bought a Cardex radio along with forty cassettes. It had all kinds of genres from Sufi to Carnatic to Rajasthani. Listening to these cassettes, made my interest in music grew stronger. I used to observe my father listen to a song and say 'wah', next day I would listen to the same song and would see what the 'wah' factor was about. To me, music was nothing but listening for a long time.
I passed out of school in 1995 and coming from a middle-class family, my father didn't have enough money to pay for my college. This gave me a one-year break from education and trust me, I was happy with this decision. I started to learn English through the movies I would watch and the music I used to listen to. This also gave me a foundation for art. Back in those days, diabetes was treated as something deadly and my father was a diabetic. With the fear regarding his health condition, he wanted me to pursue something that could help me earn a living in the future.
He wanted me to learn visual art and seeing him paint and sketch did help me do a good job as well. I applied for an illustrator's job and within the second year of work, I shifted to Mumbai. Well, it was a whole new experience I must say. This is when music entered my life once again. The hostel I used to live in had people from all over the country with diverse backgrounds. One day, I saw a guy from the North-East play the guitar and that was my first encounter with it. I was awestruck, oh my god! I heard him play for a while and asked him if I could touch it. That was "the" moment of my life where I felt connected to something instantly.
Moving to Mumbai allowed me to know myself more. Now that I look back, it feels like I went to Mumbai to get the experience as a musician and not an animator. I started buying more cassettes and decided to learn the guitar properly. Well, life had something different in store for me. I came back to Hyderabad and was working in various animation studios. Later, I moved to Bengaluru where I bought myself a second-hand guitar for Rs. 500/-. I was tired of the animator career already. Working on a computer made me feel like a robot.
I moved back to Mumbai in 2006, I decided to take up music seriously. I bought a new guitar and began to write my songs. I started performing for open mics. I wrote a song about Bombay and with that, I got featured in the Rolling Stone Magazine. I quit my job as an animator in Mumbai and shifted back home for good. I started it off quite lowkey. I composed and rehearsed for a while. I was never for the idea of doing covers. I always believed in the originality a song has. I began playing music near KBR park. There was a struggle through every step of the journey. I now forced myself to do covers because I had to make a living for myself after all. I started to do open mics and gigs in cafes. It was not the easiest way to earn and stay close to music. It was a dark phase that I pulled myself into.
I decided to bring my game up and started taking guitar tuitions in 2018. While this happened, a friend of mine suggested a transformation course. The course taught me to shift my perspective about life. This change was seen during the lockdown. I remember it was around April of last year. I stepped out to get some fresh air and started to observe how scared everyone was. The environment was quite hostile. This got me thinking about what can I do for the people. So, one day I decided to sit under a tree with my guitar and started to play some music.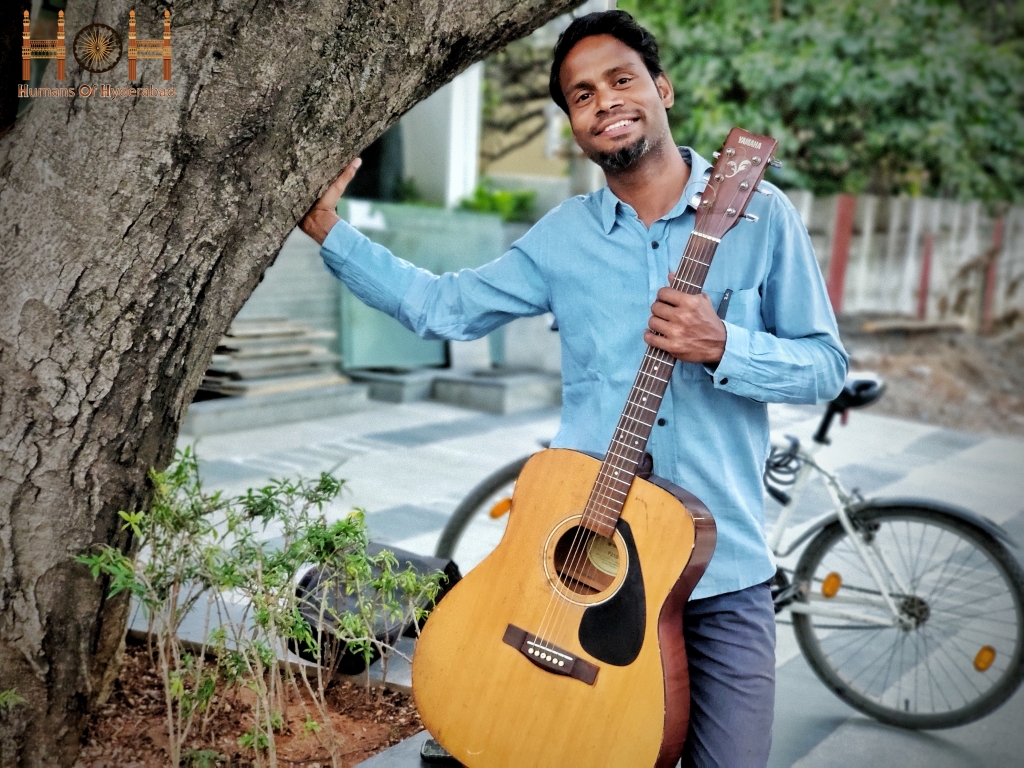 Three days later I had a board that said, the funds collected will be donated for the local labor who have been having a tough time going back home. This is when I realized, music is just not an art form for me anymore, but something more."