"Raju" that's what I named him. A six-month-old (pup) bundle of joy. When I had moved to Pune for work, I used to feed him post my office hours. He would come running towards me and greet me with a bright smile. But one day I couldn't find him at his usual place. When I found him in one of the lanes, I realized he met with a car accident and he couldn't move. The next day I left him at Blue Cross Pune. After 40 days I went back to the center and decided to bring him home. Fast forward to six years later, Raju is now family.
I come from a middle-class family. Honestly, just like any other teenager, I was a careless one too. But things changed once I joined college. I started to get the exposure that I did not have while I was in school. I began to meet people from different backgrounds. I was open to learning various other things that I was not aware of until then. College was when my philanthropic journey began. One of the instances which motivated me to start the Animal Water Bowl Project was when I visited Bengaluru. I keenly observed the way animals were quenching their thirst through the dirty water from the lanes.
Such instances always pushed me to think something different. I started comparing how one can help a human life and how one can help an animal life. But what stuck to my mind was that we humans can explain what we want whereas it is not the same with animals. They need someone who can understand their feelings and stop treating them as objects. I wanted people to understand that it is our responsibility to fight for the welfare of animals.
I truly believe in the saying "You must be the change you want to see in the world". I turned into a complete plant-based consumer. I have been a vegan for the last ten years of my life. I started to connect and involve myself in rescuing animals and gaining knowledge from veterinary doctors and friends who were part of the welfare of the wildlife.
In 2017, I quit my job in Pune and moved back to Hyderabad. Looking at the kind of injustice animals were facing, I started running my mind on various projects that could be done for their welfare. I decided to initiate a project that revolved around water and at the same time create awareness among people about the welfare of animals. I wanted people to realise that their assumption on summer being the only season when we can help animals by providing water is wrong. Initiating the project with my funds, we started Animals Water Bowl Project in 2017.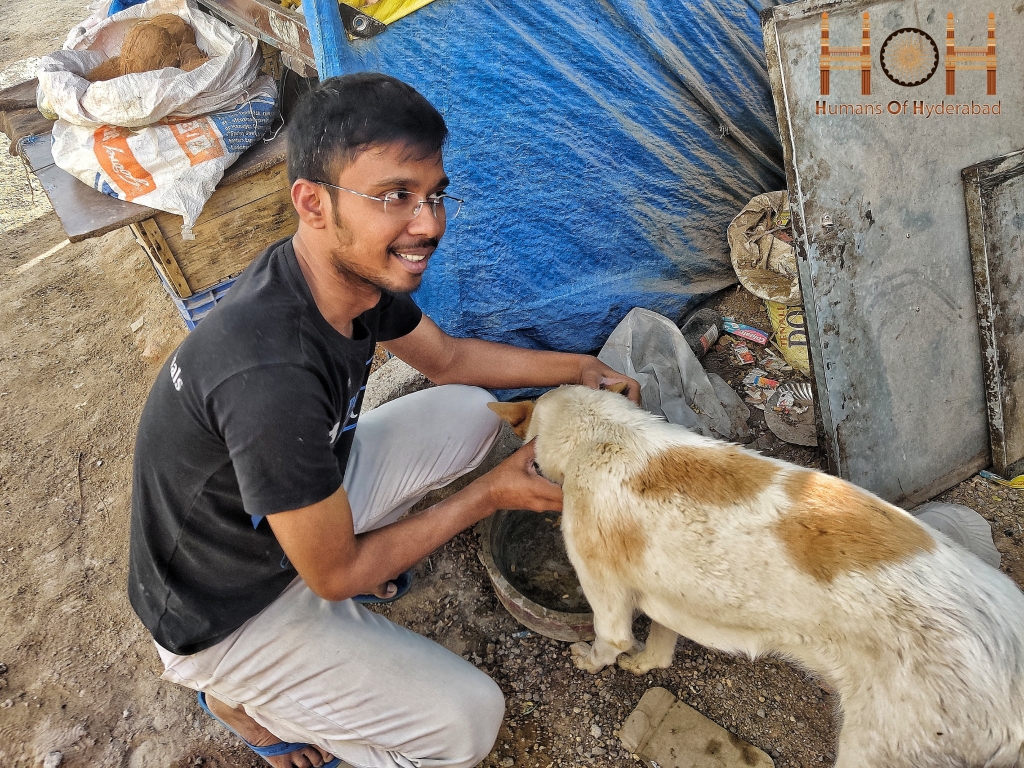 I remember, for our first animal water bowl event, I wanted it to be a learning for everybody who attended our event. So we had an event called 'water bowl painting' where the volunteers paint the water bowls before taking them. I realized that the water bowl project is not the only solution to rectify the problem. So, we started to conduct a continuous education program and create a platform where we see that every stray animal gets safe drinking water throughout the year. We also began to create our short films and bring awareness by showing them to our audiences. Programs were initiated in schools, colleges, and corporates as well.
Quitting my IT job was a tough choice. I prepared myself by saying, that it will be a tough ride. But what gave me the push is, I am part of this society. I am depending on this society for my needs. So what am I doing, for this society? Now I am a social ideator for animals. I keep inventing social projects to uplift animal welfare in the community for the betterment of Animals, Humans, Trees and the Environment. AWBP (Animals Water Bowl Project) Trust is my first project and ANINV (Animals Invention) is my second project started in the year 2020 – Research and Development centre where we keep inventing/ innovating the mechanical tools which address the challenges of animals. And my journey continues in social space. My last message to everyone "To build good communities around, our first step should start with animal welfare."