"The bicycle has quintessentially been a symbol of hope and happiness right from my childhood. Even now, at a time when people are restricted to go out, we are able to provide a ray of hope to those who are most vulnerable with our Relief Riders initiative.
The Relief Riders Hyderabad was started for helping the elderly senior citizens with the delivery of medicines and essentials via Bicycle. This concept was first ideated by cyclists in Bengaluru and was later replicated by Hyderabad, Mumbai, Jaipur and Chennai cyclists. It all started when I was adjudged the 'Bicycle Mayor of Hyderabad' on April 2 by Amsterdam-based 'BYCS', a global initiative to promote the use of cycles in the city. Even though I have been promoting cycling for the past three years through the Happy Hyderabad group, under the Relief riders initiative, we have collaborated with all the cycling groups across Hyderabad.
With a motive to serve the elderly, we have started this initiative on April 30 with support from a handful of like-minded friends. Relief Riders Hyderabad today is a platform where we have a network of 173 volunteers to provide transportation logistics in Hyderabad during off-hours of Lockdown. This applies to anywhere in Hyderabad city and we deliver medicines for elderly people, groceries, vegetable distribution, masks and sanitisers distribution, the requests for assistance range from arranging oxygen cylinders, emergency drugs, and even ICU beds through online requests and phone calls.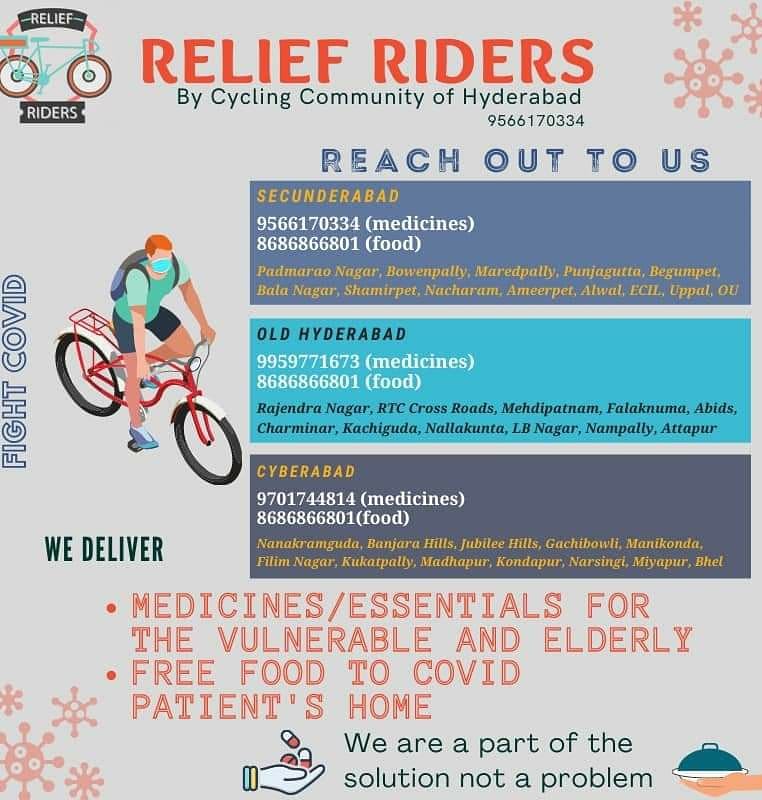 What we can and cannot do was clearly defined within the volunteer groups and when we stand as a community, there is no need for a big sponsor or a big corporate to help when there is cooperation and community behaviour among the community members. The crisis created by the COVID-19 pandemic has now pushed us into a complete lockdown to contain the spread of the virus. While most of us have the access to cope up with this unprecedented situation, the COVID 19 has proved particularly fatal to the elderly. It is hence crucial for us to ensure that the aged in our local communities are quarantined safely. This means ensuring they are supplied with essentials, including groceries and medical supplies and checking on them to ensure they have the help they need – even when they don't know how to ask for it. This is what Hyderabad Relief Riders aims to do!"
#ReliefRiders #cycling #coronavirus #people #service #quarantine #COVID19 #health #grocery #transportation #motivation #inspire #Hyderabad #HumansofHyderabad