"I can't imagine how my life would have been if I have gotten married after my 10th grade, just like the rest of the girls from my family did. I am a small-town girl whose family believed in giving their son a quality life and not the daughter. I remember how my brother was sent to an English medium school and I was sent to an Urdu medium. Coming from a lower-middle-class family where my father was the only bread-winner, my mother was not allowed to work and earn as it was against the norms of society. This kind of exposure turned me into an introvert. I remember those nights when I used to cry only after everyone fell asleep. As a young girl, I never let my pain out.
Looking at the women of my family leading a mediocre life, I chose not to do the same mistake. I remember when my uncle, who was a cop, retired from his service, he had few esteemed guests attend his retirement party. He invited all our family members but just not ours. That happened only because my father was not educated enough to attend the party. This was the point in my life when I decided to educate myself and earn the respect that my family and I deserve.
I convinced my parents to let me pursue my education till my bachelor's and promised them that I will get married after. My father agreed to our deal. But I had my uncles and aunts try to brainwash my father about how it is not the right decision for me including my mother blackmailing me.
I remember during my intermediate, republic day celebrations were going on and all the girls started to decorate the class. Because we were from the Urdu medium we weren't allowed to do the Rangoli, we decided to go and help the girls from the Telugu medium in filling the colours. That is when we had our lecturer called us and admonished us saying we went lusting after the guys. Having heard enough of his accusations, I politely replied saying, it was the mentality and one's thinking that will give the other person a wrong idea.
Talking about struggles, during my college days, there were times when I used to skip meals for 5 days straight only to save money. One day, I called up my mom and asked her if they could send in some money for the expenses. Well, the call did not end smoothly and I broke down after that. I was hellbent on finding myself a job and standing on my own feet.
While pursuing my Bachelors in Social Work, I began to work with various organizations that believed in fighting for the betterment of society. That is when I came across girls who were going through that tough journey that I was put through too as a young girl. Letting them study was a non-existing option given. Honestly, I thought it was only my family who had such kind of a mindset but I was wrong.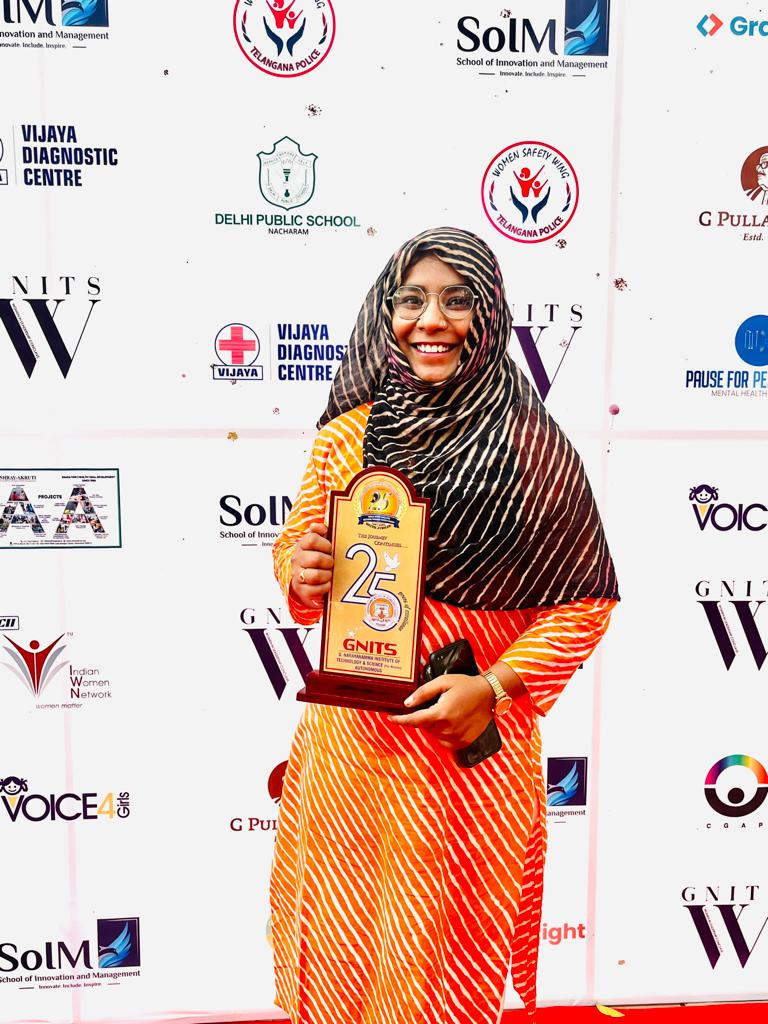 Looking at the war these girls have been fighting, I started "Good Universe" with a group of friends in 2014. Our vision was to empower young girls and women and give them a voice. I used to take most of my workshops in the old city area and it was very difficult for us to change the mindset of the women there. I recall this one incident when I was taking a capacity-building session when a girl's father comes to the workshop asking us not to teach his daughter 'awarapan cheezein'. But that didn't stop me! I have shared my knowledge with close to 15,000 women in Telangana and today I am proud to say that so many mothers want their daughters to become like me. I am proud of how far I had come and the journey has just begun!"