"I always had a passion for science and innovation right from my childhood. My parents were both daily-wage workers and they wanted me to get well-educated so that I can lead a better life. That certainly pushed me to study hard and I got into the research studies at a young age. I used to read a lot of Science based articles on Aeronautics and Missile technologies in school, having been inspired by the journey of the Aerospace Scientist, Dr. A.P.J. Abdul Kalam. While I was in my Intermediate, I sent my research idea in developing a unique security code language for the Missiles to the Honourable President of India, Shri Ramnath Kovind sir. My proposal was further sent to ISRO Bangalore. That's when I got an opportunity to meet Indian Army Brigadier P. Ganesham(Retd) while receiving the research report. Brigadier Ganesham sir appreciated my efforts and encouraged me to further develop my research idea. I continued to work on my research under his guidance. For the last four years, I have been continuing my research in Data Science. I developed advanced scientific code in the Data Security aspect.
I developed OPLAC Base Security Code which is an advanced un-decodable scientific code. My Research Paper on OPLAC Base Security Code was published in the International Journal for Research Trends and Innovation (I.J.R.T.I) Journal with 80 % unique content.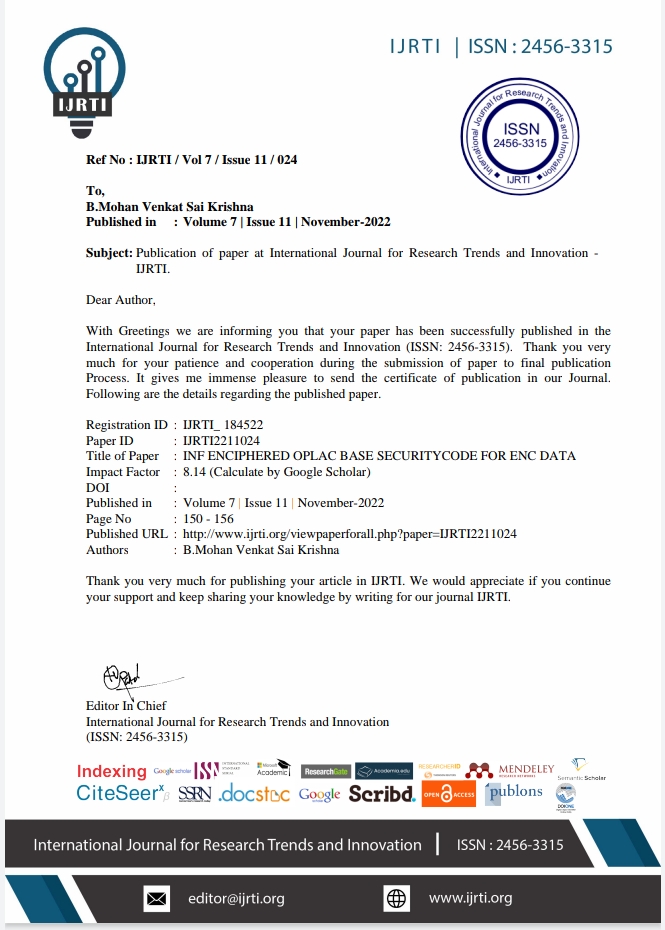 My efforts paid off when my research got the 6 IPR ROC COPY RIGHTS From New Delhi Authority. I am currently pursuing my B.tech course in Artificial Intelligence and machine learning and parallelly doing my research study in Data science.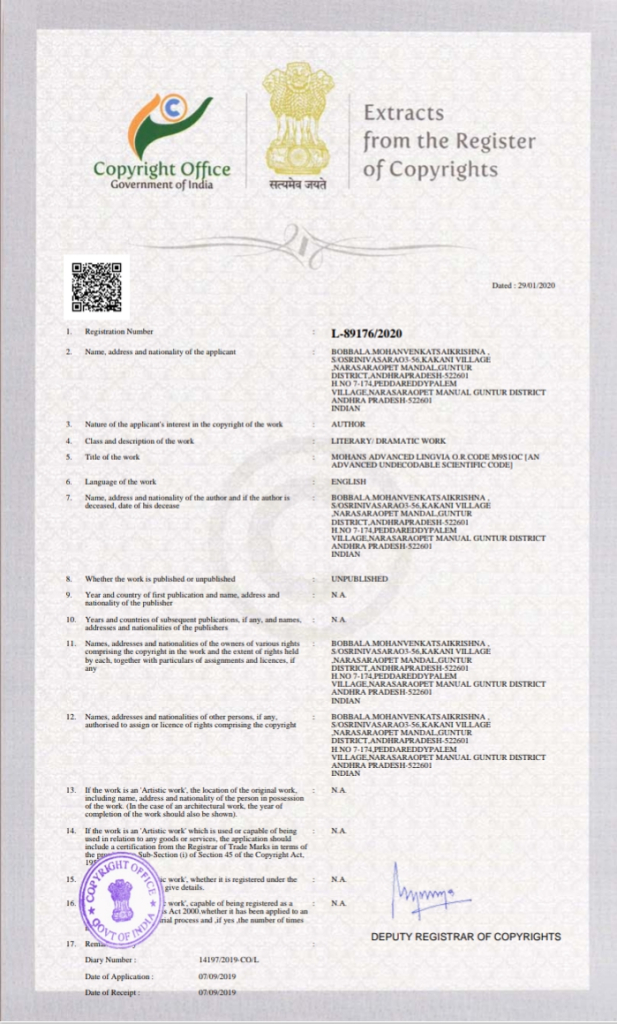 Through thick and thin, Brigadier Ganesham has mentored me in my journey in the research sector and I am extremely grateful for his guidance and support. My journey from reading science magazines to developing an advanced Security Code has taught me a sense of purpose, and a desire to make a difference. My parents are extremely proud of my achievements and I look forward to continuing my research in various aspects of Data Science. My future aim is to do a Ph.D. in Artificial Intelligence and I intend to contribute my bit to the service of the nation through my research works."