"My baking journey started in college when I used to make all my friends and family try my cakes. One of my friends from college suggested to me why don't I start a baking business from home. After that, I went on Instagram, made my profile, and started marketing. I got a lot of orders from Instagram. Now 7 years down the line, mom and I are partners in the business. We served people with happiness during the pandemic and will do so now as well.
I have also started my food blogging journey in 2020. I chose food blogging because of my curiosity to discover many cuisines. I wanted to try everything and eat everywhere… the smallest of places to the fanciest of places. I learned the importance of simplicity through this journey and consistency. I met many people who inspired me and motivated me to keep working hard.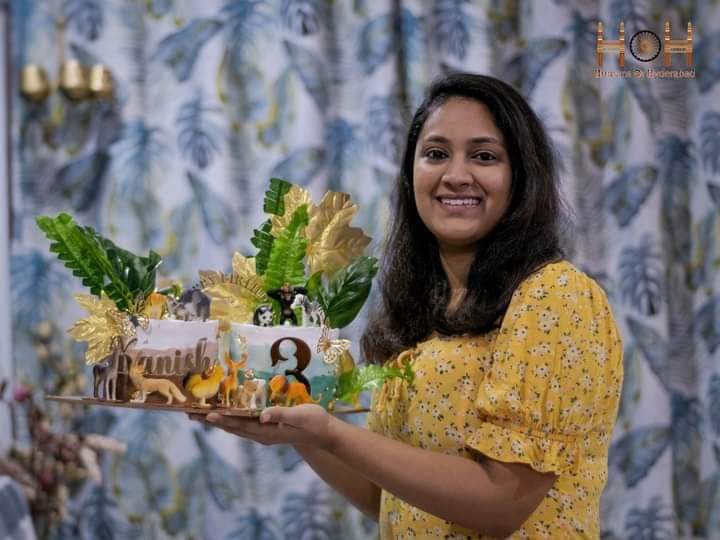 I started promoting people to help them expand their home businesses. Slowly I started covering restaurants upon invitation. I started covering their ambiance and food. I have done many sessions and almost covered 200 + places in Hyderabad as of now. It's been 3 years since I started this new chapter of food blogging and it's been an amazing journey so far. I have met many food lovers along the way and many talented chefs and cooks. I discovered many hidden gems in Hyderabad with really unique food.
The day I chose food blogging, I knew I had to juggle my business and food blogging. For food blogging traveling is the main thing. It consumes a lot of time with the traffic. I usually take orders 5 days prior so it's easier to finish my work and then join a food session if any collide.
My family and friends have been an immense support system in my life. At every step of my entrepreneurial journey, even a little contribution from all of them has been an immense help.
I just wanted to suggest one thing to people who wish to start something new. Try. Fail and learn from your failures because there is nothing better than being your own teacher."
: