"I have always been sensitive towards animals and mother nature ever since I was a child. The multicultural upbringing at home has helped me gain a broader perspective on life. My parents were both teachers. They are my biggest support system all throughout and they never said no to my career choices. That's also one of the reasons which led me to pursue Mass Media as my career choice. I majored in Communication and Journalism Degree and it's been more than 20 years since I have been in the media field. I must say, I am fortunate enough to have worked with the best of the teams in my journalistic career having worked with the top media houses in Telugu as well as other languages. I have had the opportunity to travel to different cities as part of my work and that certainly helped me to handle various situations in a better way. During this journey, I got myself involved in solo traveling, and trekking. I turned vegan completely in 2014 once I got myself educated and exposed to the torture that animals are subjected to in the dairy, meat, leather, and wool industries. There are several other reasons than the pain and suffering of an animal that pushed me to stick to a vegan diet. I certainly believe veganism is an essential lifestyle because it aids in a better environment.
In 2014, I went to the USA and worked there as a programming manager at a renowned Radio Station for close to eight years. I moved back to India in 2021 to pursue my other goals in life. I got myself trained to pursue professional mountaineering with the help of cross-fitness trainers. I have submitted several mountain valleys in India including the Sarpass Trek before going to Tanzania for the Mount Kilimanjaro summit. In September 2021, I became the first vegan woman from India who summited Mount Kilimanjaro which is the tallest mountain in the African continent and the highest free-standing mountain in the world with the intention to spread awareness about veganism and plant-based food.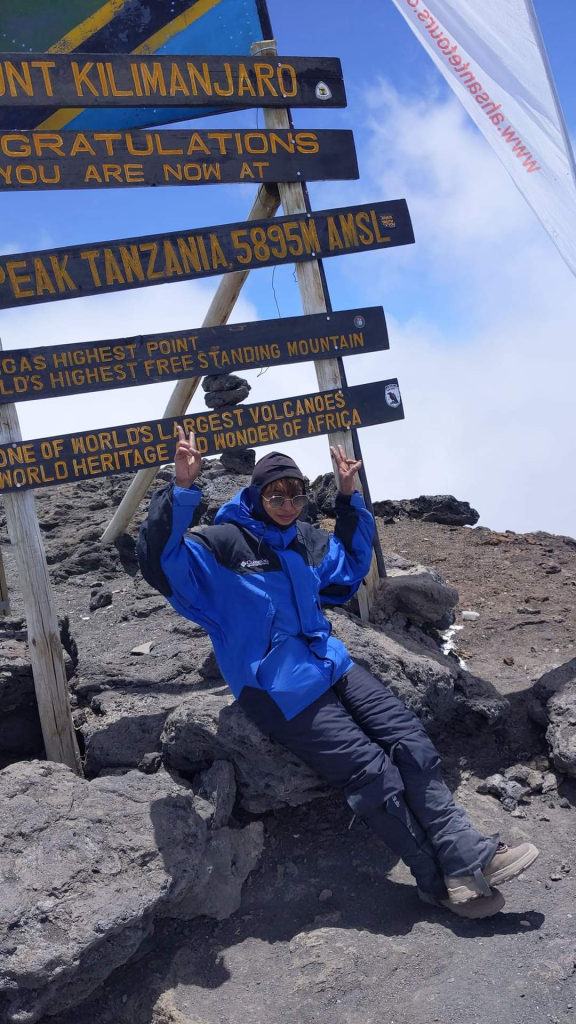 The whole trek was a life-enhancing experience for me to say the least as we had to cross 5 regions. It took me 9 days to complete the summit.
After coming back to India, I started a zero-waste vegan cafe here in Hyderabad with the name Simi's World Vegan Cafe practicing sustainability. I also volunteer with a few NGOs working for animal welfare and also feed stray dogs and foster kittens as part of my community service. I am simultaneously pursuing my journalistic career still working as a freelance journalist.
As a media person, I have understood how people can hear me and that's when I started to create awareness on veganism and sustainability on social media.
Today, when I look back, I feel grateful for everyone who has supported me in my journey so far and I believe there's still a lot more to achieve in life in the future. I would advise one thing to the people reading my story – Never give up on something you believe. Remember that anything worthwhile takes time and requires some serious dedication and determination."